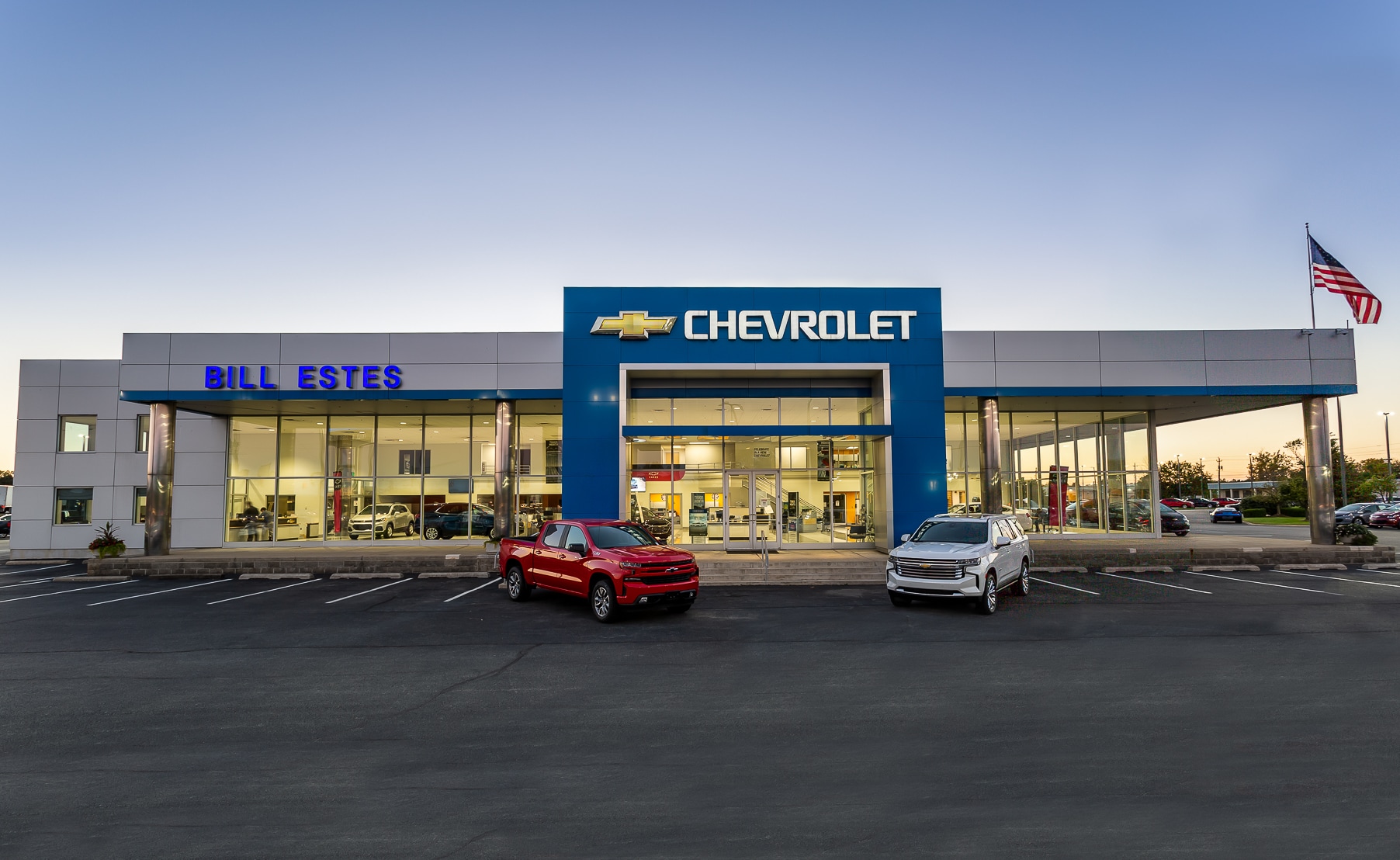 Are you just starting to think that your current vehicle may be a little out date or has seen better days and it is time to upgrade? Here at Bill Estes Chevrolet, we have the largest selection of vehicles new and used and the lowest prices in Indianapolis, IN. 
Browse through our extensive inventory of new Chevrolet vehicles like the very popular Equinox, Malibu, and Traverse or the fast and stylish Camaro. Maybe you are in the market for a new truck either for work or for play. We have just what you are looking for with trucks of all sizes and power, like the Chevrolet Colorado, Silverado 1500, 2500 HD, 3500 HD and Silverado 4500 HD Diesel. We also carry other work vehicles that include the Express Commercial Cutaway and Express Cargo van. Our staff at Bill Estes Chevrolet has all of your new car, truck and SUV needs covered at competitive pricing.
If a new vehicle isn't what you are in the market for then check out our large inventory of pre-owned vehicles from Chevrolet as well as other popular automakers like Honda, Jeep, BMW, Cadillac, Nissan, Toyota, and Mercedes-Benz. Our inventory of quality pre-owned vehicles has been thoroughly inspected by our team of auto mechanics to assure they are of the highest quality. Along with being inspecting our inventory of pre-owned cars are comprised of recent model years that are low in mileage.
At Bill Estes Chevrolet, we're committed to our customers from Carmel IN, Fishers IN, Noblesville and beyond. We strive to earn your business and treat every customer with the highest level of respect and service in every area of our dealership. Whether you are buying a new or used car or just stopping by our service center for routine service, everyone is valued and will go home completely satisfied. We invite you to stop by our showroom at 4105 W 96th Street and see what we can do for you.
About Us
A message from Bill Estes.
Our Vision
At Bill Estes Automotive, we believe that employees must be excited about their career and clearly see their contribution toward the fulfillment of our corporate goals. We believe the business must be profitable to ensure long-term sustainability and to allow our company to contribute to the community in a significant way. We believe we must act differently and earn the trust and respect of every person that gives us the opportunity to earn their business. We believe that at Estes, we are a different kind of dealer and we prove it with our actions.
Our Mission
Our Mission is to provide an experience that exceeds expectations and rejects established perceptions of a car dealer…being a different kind of dealer. Being fun, friendly, informal and engaged and always earning it, that's The Estes Way.
The Estes Way
The automotive industry is overloaded with sameness and the customer has become accustomed to promotions as a manipulation and views every dealer with the same lens. Every dealer competes on price and price is the enemy of unique. Our brand stands for more than price. Vehicles may have become a commodity, but what we do at Estes is not. We develop and build relationships with people and use cars and trucks as a way to meet those people. We are a different kind of dealer.
The Estes Experience
    
Fun - this should be a happy time, getting a new vehicle is fun
    
Friendly - from your first smile to the final handshake, treat people like your family
    
Informal - stiff, formal process feel like you're hiding something…we aren't
    
Engaged - follow-up, be attentive, listen…nobody wants to feel like you don't care
Providing a fun, friendly, and informal experience makes it easier to make and build trusted relationships. People don't trust companies, they trust other people - they trust people that are fun, friendly, informal, and engaged. And, we deliver it by calling out the sameness and changing it. We deliver it with a culture of treating people with respect and developing trust by drawing a strong ethical and moral line that we will not cross.